Creative Movement and Rally Obedience Workshop
POSTPONED due to a family emergency!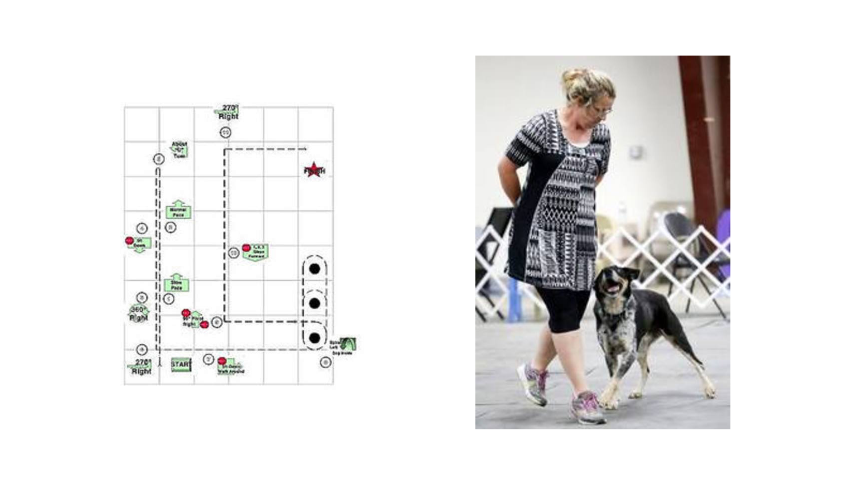 Location: Southfork Cavvy, 19 Road RT, Cody/WY
Cost: Working spot (with dog): Full Day $130, Half Day: $75 – Auditing spot: Full Day $50, Half Day: $35
Come enjoy some fun out of the ordinary together with other dog enthusiasts!
We invited Camilla McCullough from Bluecreekcanine (bluecreekcanine.com) in Billings/MT to hold two fun workshops that will give you an insight into entertaining ways to work with your dogs.
Camilla has been a certified dog trainer since 2009 and has competed in several dog sports. She has been teaching obedience classes, Freestyle Dancing, Tricks and Creative Movement for many years in her owns training facility and enjoys giving workshops in new places to grow the group of dog training fans.
9:30am – 12:00 Creative Movements (Dancing with your dog)
This workshop is a great foundation to practice moves that go beyond your basic commands, such as sit, down, stay.
Camilla will give you new ideas on how to engage and work with your dogs in a more creative and fun way. You will start working on transitional moves, such as spins, circle around, through legs and much more, along with learning about sequencing, chaining behaviors together and how to choose the right music for you and your dog.
Creative Movements helps build confidence, team work, handler focus, and are great foundation-moves for other dog sports activities, such as Agility.
Click here to watch a video, showcasing students "dancing" with their dogs after only practicing the routine and moves for 1 1/2 hour at Camilla's workshop at Yellowstone Dog Sport's Summer Camp. As you can hear, they all had tons of fun.
1:00pm – 3:30pm Intro to Rally Obedience
Rally Obedience, or Rally-O, is a fun dog sport based on obedience. This means, there are a lot of the same elements from obedience, such as your standard heeling, sit, down, and stay. Unlike regular obedience, instead of waiting for the judge's orders, the competitors proceed around a course of designated stations with the dog in heel position. The course consists of 10 to 20 signs that instruct the team what to do. Unlike traditional obedience, handlers are allowed to encourage their dogs during the course.
This Intro to Rally workshop will focus on the Novice signs and the importance of encouragement and teamwork, with a focus on precision in positioning. This workshop will help reinforce and improve your current basic skills (sit, down, stay, heel , come to front, finish), while also teach dog and handler how to increase the duration of focus.
Snacks will be provided.

Requirements for both workshops: All dogs are welcome, no matter their age or breed. Your dog must feel comfortable being around other dogs, must have basic walking skills, and you both have a desire to take training beyond sit, down and stay.
Please bring a crate, crate cover ( if needed), sufficient amount of treats ( different levels of value), water dish and water. Please arrive 30 minutes prior to the beginning of your workshop to get set up.
If interested, please contact 307HappyDog at (307) 272 9762 or email 307happydog@gmail.com